Cambium Networks ePMP Bring a Friend Program for WISPs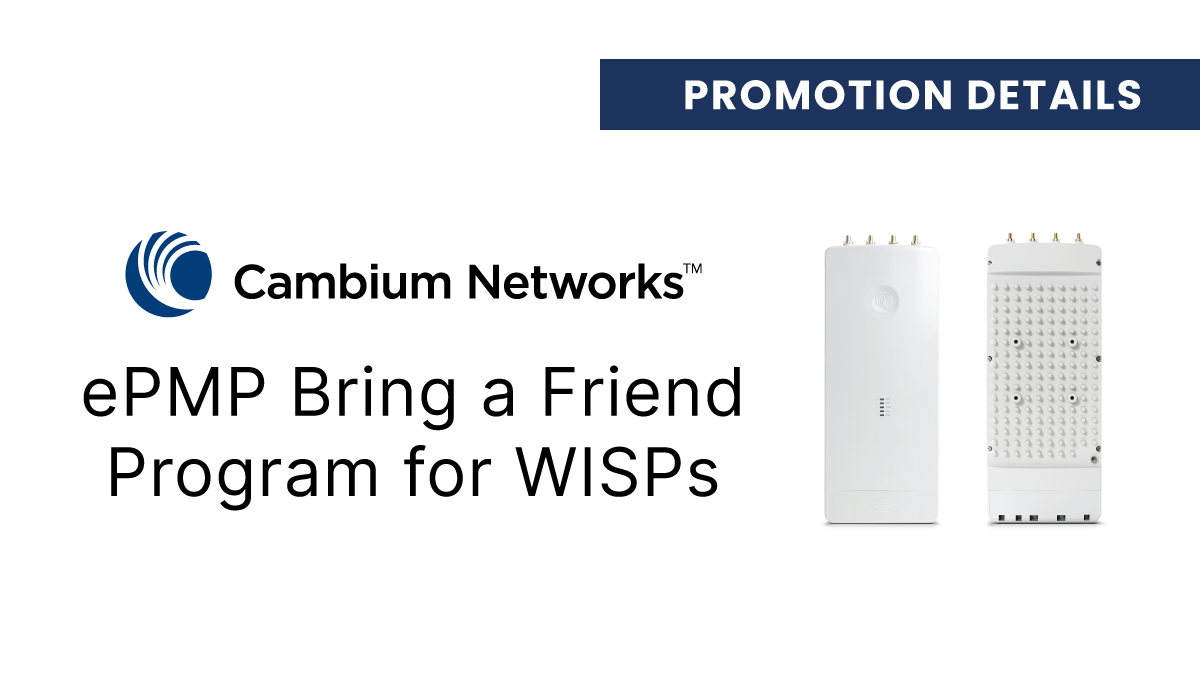 Bring a Friend and Get a Free Access Point!
If you are a current broadband service provider using Cambium Networks ePMP access products in your network and refer a new service provider to us, you can receive free-of-charge equipment when the new provider buys their first set of equipment.
How It Works:
Current broadband service providers tell their peers and colleagues in the industry about the success they have had deploying Cambium's ePMP products.


When one of these providers (new to Cambium) purchases and deploys their first access point (or 12 subscriber modules (SM) if deploying primarily PTP links), the referring provider getsone (1) free wireless access point (AP).


For every new broadband service provider using ePMP that you refer, you will get one (1) ePMP 3000 with one (1) MU-MIMO Sector Antenna at no charge.
For the Referring Provider: Fill out this form, and reference 'MBSI WAV' as your preferred distributor. You will need to provide contact information for the new provider along with your contact information. After registering, someone from Cambium will reach out to you with more details.
For the NEW Provider: You can also fill out this form. Reference 'MBSI WAV' as your preferred distributor and provide the details of the broadband service provider who referred you. Then, contact MBSI WAV to help you get started with Cambium Networks products.
This is an ongoing program until further notice.
Learn More About Amazing Savings from Cambium Today