Bringing 802.11ax to the Classroom: The Opportunity in Education for Wi-Fi 6
Posted: November 2, 2020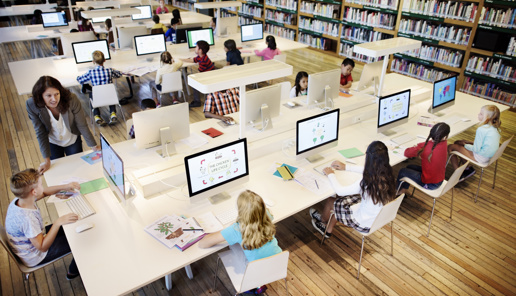 By: Dave Clelland 
Classrooms are increasingly leveraging technology to improve students' learning experience, but even the most advanced digital learning tools are only as good as the network that supports them. Wi-Fi 6 can help ensure your educators and your students are able to get the most out of every digital exercise.
Leveraging Wi-Fi 6 in the Classroom
The main benefit Wi-Fi 6 has over its predecessor (Wi-Fi 5) is that it is specifically designed for small coverage areas, such as classrooms. This smaller footprint promotes higher in-room density, allowing teachers and students to take advantage of the higher order modulation levels that Wi-Fi 6 employs. Wi-Fi 6 operates in the 6 GHz band, as well as the 2.4 GHz and 5 GHz band Wi-Fi 5 operates in. This ability to spread out on the radio spectrum produces a better connection for all devices, old and new, and reduces interference and bottlenecks.
Wi-Fi 6 implements technologies such as MU-MIMO and OFDMA, which are able to dramatically improve capacity by enabling more simultaneous connections.
When deployed correctly, Wi-Fi 6 can bring up to 35% higher capacity to a single user, making it a great option for educators currently engaged in distance learning.
Enough Wi-Fi to Go Around
Wi-Fi has traditionally struggled in high-density settings (such as a classroom full of laptops jockeying for uninterrupted access). Wi-Fi 6 features such as automatic power control, wide channels, short in-room range, and students and staff using 802.11ax clients; Wi-Fi 6 is able to leverage the higher per client data rates to significantly increase the wireless capacity for each classroom.
W-Fi 6 devices are also designed to optimize battery efficiency, allowing for longer device run-time without the need to dock or charge as often. This increased battery life means that students are set up for success, whether they are learning in indoors or outdoors.
Getting the Most Out of Wi-Fi 6: Tools for Educators
To enjoy the maximum benefit from your new Wi-Fi 6 network, Cambium Networks offers free Wi-Fi Designer and Wi-Fi Inspector tools to help you design and test your network, as well as cnMaestro, a cloud-based or on-premise software platform for secure, end-to-end network control.
Wi-Fi Designer
Cambium Network's free Wi-Fi Designer tool helps ensure your network meets user demands and has been tailored to your unique environment. This intuitive, predictive heat-map tool allows you to:
Draw your floorplan in the app or upload it directly into the app

Select different wall materials to see how they affect RF (radio frequency) coverage

Place access points (APs) on the floorplan to visualize network coverage

Change the RF characteristics of your APs to see how they affect your network coverage

Generate and email final heat maps as well as a build of materials so you can easily share your findings with other stakeholders
Wi-Fi Inspector
Cambium Network's free Wi-Fi Inspector tool has become the standard used by countless organizations worldwide to quickly and easily gain visibility into their networks. By providing real-time monitoring of your wireless network status, you can help ensure you are getting the best performance possible out of your wireless network.
This tool allows you to:
Search for nearby Wi-Fi networks

Easily troubleshoot any Wi-Fi connectivity issues

Conduct a site survey to verify your Wi-Fi coverage

Locate all Wi-Fi devices on your network

Control a laptop's Wi-Fi connection

Detect unauthorized APs

Aim your Wi-Fi antennas

Verify your AP settings

Troubleshoot problems via easy to use troubleshooting tools
cnMaestro Network Management System
Cambium Network's cnMaestro includes built-in Wi-Fi controller capabilities, giving you granular control over your network. This compelling and easy to use network manager simplifies device management by offering zero-touch provisioning and full network visibility, allowing users to view and perform a full suite of wireless network management functions in real-time.
The Benefits of Upgrading Early
Educators around the world are increasingly relying on internet-based learning tools, particularly as some students continue to learn from home. As such, data requirements are continually increasing, and at some point demand will exceed your current system's capacity.
If your classroom requires more APs to provide more reliable network coverage or remove bottlenecks, then installing the next generation of Wi-Fi APs should be top priority. These new APs are better able to support high user demand (as students and teachers leverage technology to collaborate within the classroom) and support new frontiers in learning such as VR.
Cambium Networks and MBSI WAV are Here to Help
Your success is our success, which is why the MBSI WAV and Cambium Networks teams are here for you every step of the way. In addition to the useful tools from Cambium discussed above, MBSI WAV offers:
Product demonstrations

Training

Configuration assistance

Wi-Fi designer services

Ongoing Tier 1 support (with the purchase of cnPilot products)
To find out how your school or school district can benefit from Wi-Fi 6, please contact our team.
Previous Post
Solving Challenges Tied to High-Density Indoor Wi-Fi With Cambium
There is nothing more frustrating than getting kicked off a Zoom call or being unable to access critical online resources because of a poor Wi-Fi c...
Next Post
Measuring the ROI of an AX Upgrade via the Cambium TCO Profiler
Whether or not to upgrade your software or hardware isn't always an easy decision to make. Clients want to know that they are being offered the bes...