Tarana Technical Accreditation Training
Posted: October 31, 2022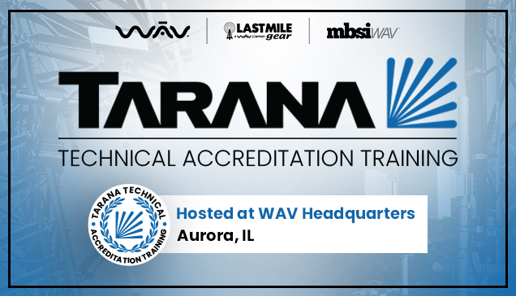 WAV, MBSI WAV and Last Mile Gear are happy to offer Tarana technical training at WAV Headquarters in Aurora, IL. Tarana technical training prepares installers, administrators, and NOC team members to deploy and manage a Tarana G1 network. Two courses with online accreditation exams are now available. Courses will be available in person from Tarana and ATP instructors, recorded on demand, and live virtual (webinar). In-person training includes hands-on labs.
Join us at one of the following training courses, limited seats available. 
December 6-7 Course Registration December 8-9 Course Registration
Class structure allows time for Q&A, overview of the online Tarana training portal, and review of certificate exams. Lunch will be provided both days.
Students will need a laptop with admin rights (to change IP addresses) and an ethernet port or adapter.
Day 1 Agenda:
Students completing this course and the online exam earn the Tarana G1 Installer Certificate.
G1 Installation Course
BN initial configuration and labs
BN installation
BN verification and labs
RN installation
RN configuration, verification, and labs
TCS Operations and Administration Course
Navigating TCS
Using the Dashboard and Map
Day 2 Agenda:
Students completing this course and the online exam earn the TCS Administrator Certificate.
Manage individual devices
Understanding Performance Metrics
Managing Alarms and Events
TCS Management
Network Configuration
User Management
Software Upgrades
Alarm Reporting
Troubleshooting
VLANs
Previous Post
Technology Distributor WAV and Its Affiliates Announce Distribution Agreement with Tarana
Aurora, IL and Milpitas, CA — October 26, 2022 — WAV, MBSI WAV, and Last Mile Gear, full-service distributors of LTE, wireless broadband, networki...