Solving Challenges Tied to High-Density Indoor Wi-Fi With Cambium
Posted: October 19, 2020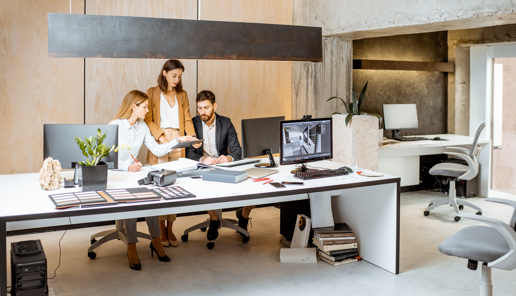 By: Dave Clelland 
There is nothing more frustrating than getting kicked off a Zoom call or being unable to access critical online resources because of a poor Wi-Fi connection. However, sluggish and unreliable Wi-Fi causes more than just a headache; it also impacts user productivity, which can have a rippling effect throughout your organization.
By investing in fast, reliable Wi-Fi powered by high-quality products, you can set your users up for success. There are a few common challenges when it comes to deploying Wi-Fi in high-density areas, which is why our team has developed solid strategies to address these issues so we can improve your company's Wi-Fi reliability, reach, and speed.
Common Challenges with High-Density Indoor Wi-Fi
As an RF and Systems Engineer, the most common Wi-Fi issues I encounter are:
The number of users per access point (AP)

AP coverage

Self-interference
All of these issues lead to networks that are spread thin as they try to match user demand for finite RF resources. When too many users crowd onto a single AP or try to connect to an AP that is too far away (a common occurrence when APs are spread too far apart), it decreases the connection quality for all users connecting to the network via that AP.
Past AP technologies were equipped with omnidirectional antennas and TX (transmission) power set to maximum, which guaranteed an interference-rich, low capacity Wi-Fi environment, leading to spotty connections, user frustration, and lost productivity. While this technically increased each APs coverage footprint, it did so by sacrificing the quality of the connection for all users. So while this meant a single AP could provide Wi-Fi coverage for four classrooms instead of one, this approach stretched RF resources too thin to offer a robust wireless experience. Relying on one AP to cover several rooms also meant that links between user devices and the AP must pass through walls and windows, which degrades the signal's quality. This signal degradation affects both capacity and throughput and restricts the number of users that can actually be supported.
Older AP technologies were also highly limited in their ability to scale because the only way to scale your network was to add more APs.
This restricted ability to scale increased an organization's overall costs because companies needed to purchase and support more AP, incurring additional infrastructure costs.
Indoor Wi-Fi Solutions Start with High-Quality Products
The only way to dramatically reduce coverage and capacity issues is to invest in newer AP technology. New technologies, such as Cambium Network's Wi-Fi 6 (802.11ax) solutions with multi-user technologies, address the challenges traditionally faced by indoor Wi-Fi solutions, particularly in high-density environments such as schools, office buildings, and libraries.
These new solutions reduce the coverage area of a single AP (for example, using one AP per classroom instead of one AP shared among four classrooms) to improve connection quality. This smaller footprint reduces power levels and ensures that the signal quality between the AP and the user and vice versa is equal. Newer APs are also better able to handle users roaming between APs and are configured to take advantage of new antenna technologies, which makes them particularly adept at handling common areas with high user density.
Cambium Network's cnMaestro
To help ensure your newly deployed Wi-Fi 6 network is meeting your users' needs, Cambium Networks also offers cnMaestro, a cloud-based or on-premise software platform that offers secure, end-to-end network control. This helps simplify device management by providing your team with full network visibility and zero-touch provisioning so you can view and perform a full suite of wireless network management functions in real-time.
Cambium Network's cnPilot e430 Wall Plate & e600 Wi-Fi AP
Both the e430 wall plate and the e600 Wi-Fi access point are ideal for high-density indoor environments.
The e430 is a compact yet powerful enterprise-class indoor AP, which can support up to 256 concurrent users with 802.11ac Wave 2 standards, making it ideal for classrooms or dormitories. This product can be managed using cnMaestro, providing you with increased visibility and network control.
The e600 Wi-Fi access point is also an excellent choice for larger spaces and is able to support up to 512 concurrent users with a range of 250 m (800 ft).
The MBSI WAV team is dedicated to providing only the best customer service backed by the highest-quality solutions available, which is why we are confident to recommend Cambium Networks products to our customers. Cambium Networks shares our dedication to excellence and have the same customer-focused approach to business. To find out how we can help improve your Wi-Fi experience, please contact our team.
Previous Post
MBSI WAV and Trylon Announce Distribution Agreement
MBSI WAV and Trylon have recently entered into a distribution agreement covering Canada. This distribution relationship was created to support the...
Next Post
Bringing 802.11ax to the Classroom: The Opportunity in Education for Wi-Fi 6
Classrooms are increasingly leveraging technology to improve students' learning experience, but even the most advanced digital learning tools are o...